Aussies love their cars. There are 20 million registered cars around the country1 – not bad for a population of 25 million!
Joining the league of motorists with a car of your own is an exciting step. It means the freedom to go where you want, when you want. It's also a big financial commitment. You need to think about how you'll fund the cost of the car, and whether you can comfortably manage the ongoing expenses of your new set of wheels.
Here's what to weigh up.
New or used?
Nothing beats the feeling of driving away in a brand new car. You can be confident it will run smoothly, giving you years of hassle-free motoring, and chances are it will be more fuel efficient than an older model. The downside is the cost.
A new car is not just likely to be more expensive than a similar pre-loved make or model, it's also likely to drop in value faster. In the first year alone, a new car can depreciate by 10-15%2, especially if an updated model hits the market soon after you purchase your own car.
A used car can be more affordable as you're letting someone else wear the depreciation. But it's important to be sure everything is in good mechanical order. Plenty of motoring associations offer pre-purchase checks for a small fee.
If you find a used car you'd like to buy, be sure to check the Personal Properties Securities Register (PPSR – formerly REVs check). This will show if the car is stolen, has previously been written off or has debt owing on it (money you could become responsible for!). It costs just $2 for an online search. Defence Bank will do this for you as part of your loan application.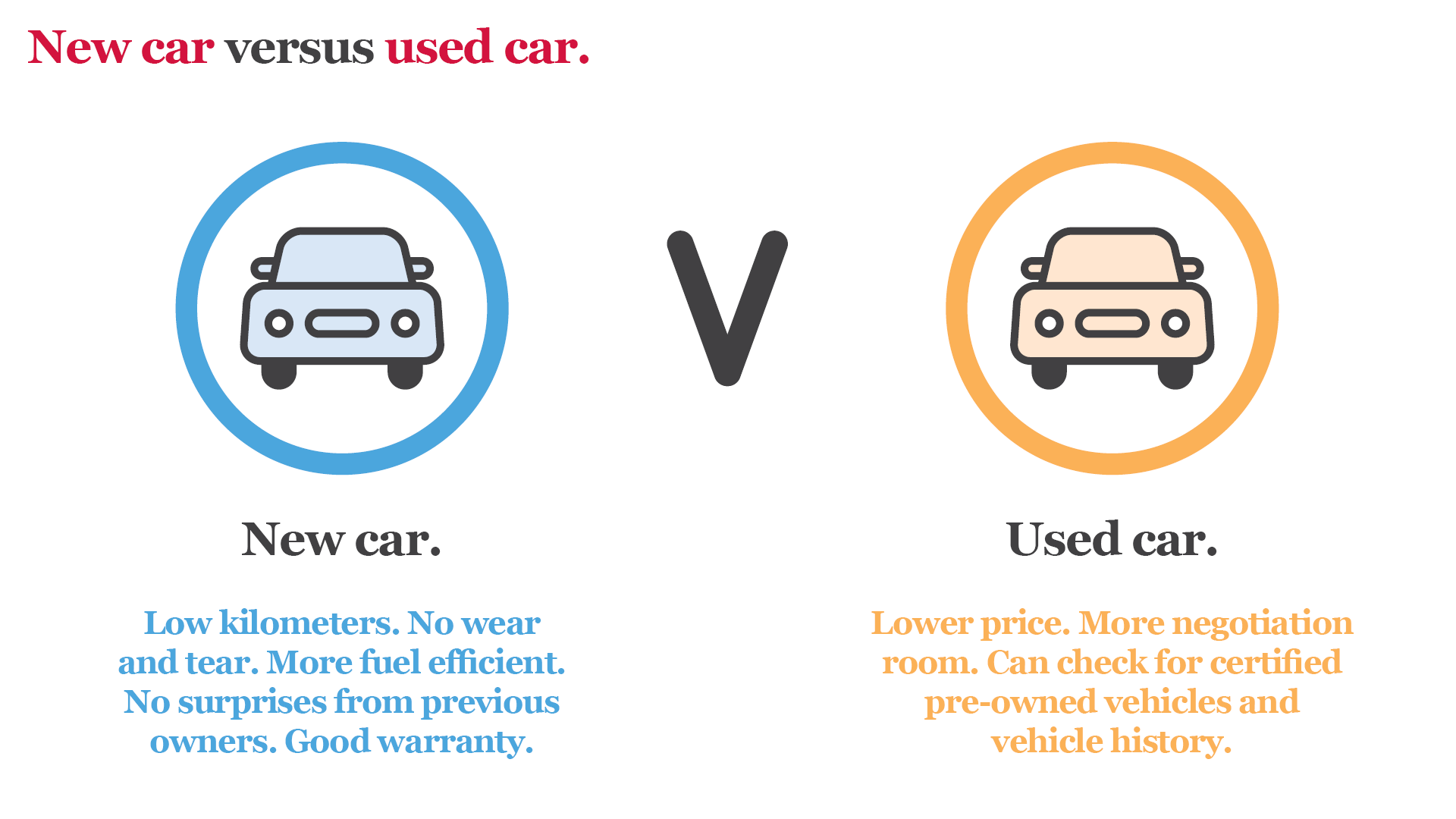 Choosing a car loan.
Your choice of new versus used car can also impact finance options. Some banks only accept cars younger than 5 years old as security for a car loan. Others charge a higher rate for pre-loved cars.
With a Defence Bank car loan, you pay the same low rate no matter whether you choose a new car or one that's seen plenty of mileage.
The beauty of a car loan is that the regular payments are easy to budget for, and the set term lets you know when the car will be fully paid off with no more to pay.
Managing ongoing car costs.
Owning a car involves a lot more than paying the purchase price. You need to budget for a variety of ongoing costs from fuel and rego, to insurance and regular maintenance to keep your car running smoothly.
A handy way to know the likely costs of a car is by using the MoneySmart Cars app. You can enter details of the vehicle plus your car loan, to get a better idea of the true cost real cost of buying and running a car. The app also provides hints and tips on common car buying traps and how to avoid them.
Bear in mind, owning a car can see you save on costs like public transport and Uber rides. And your car can be a great way to explore the country on your next vacation.
Ready to buy your new car? Chat with the team at Defence Bank about our low rate car loan. Call our Contact Centre on 1800 033 139 or visit your local branch for assistance.
Find out more about a Defence Bank car loan.
1 https://www.abs.gov.au/statistics/industry/tourism-and-transport/motor-vehicle-census-australia/latest-release/
2 https://www.budgetdirect.com.au/car-insurance/guides/car-buying/car-depreciation.html
Important note: This information is of a general nature and is not intended to be relied on by you as advice in any particular matter. You should contact us at Defence Bank to discuss how this information may apply to your circumstances.