What is a PayID?
Your PayID is a unique identifier linked to your transaction account and can be your email address, mobile number or ABN. It doesn't replace your BSB and account number which stays exactly the same – think of it as a shortened name for your account. Once you create a PayID, you can provide it instead of your BSB and account number.
Why use PayID?
Receive payments instantly.
PayIDs, along with BPAY's fast payments service 'Osko' means you can use your PayID to receive payments almost instantly.
No more forgetting your BSB.
Avoid being asked for bank account details, making it easier for you to get paid.
Safe and Secure.
Transactions made using PayID have the same level of security that protects your existing bank accounts and payments.
How do I create a PayID at Defence Bank?
Setting up a PayID is easy. You can create your PayID using either Online Banking or the Defence Bank app.
Firstly check the mobile number we have on record for you is current. You can update this by calling us on 1800 979 188.
How to create a PayID.
| | |
| --- | --- |
| Via the app. | Login and select Manage Accounts then Manage PayID. Hit Create new PayID and choose your unique identifier. |
| Via Online Banking. | Log in to Online Banking, select Accounts and then Manage PayIDs. Simply follow the prompts. |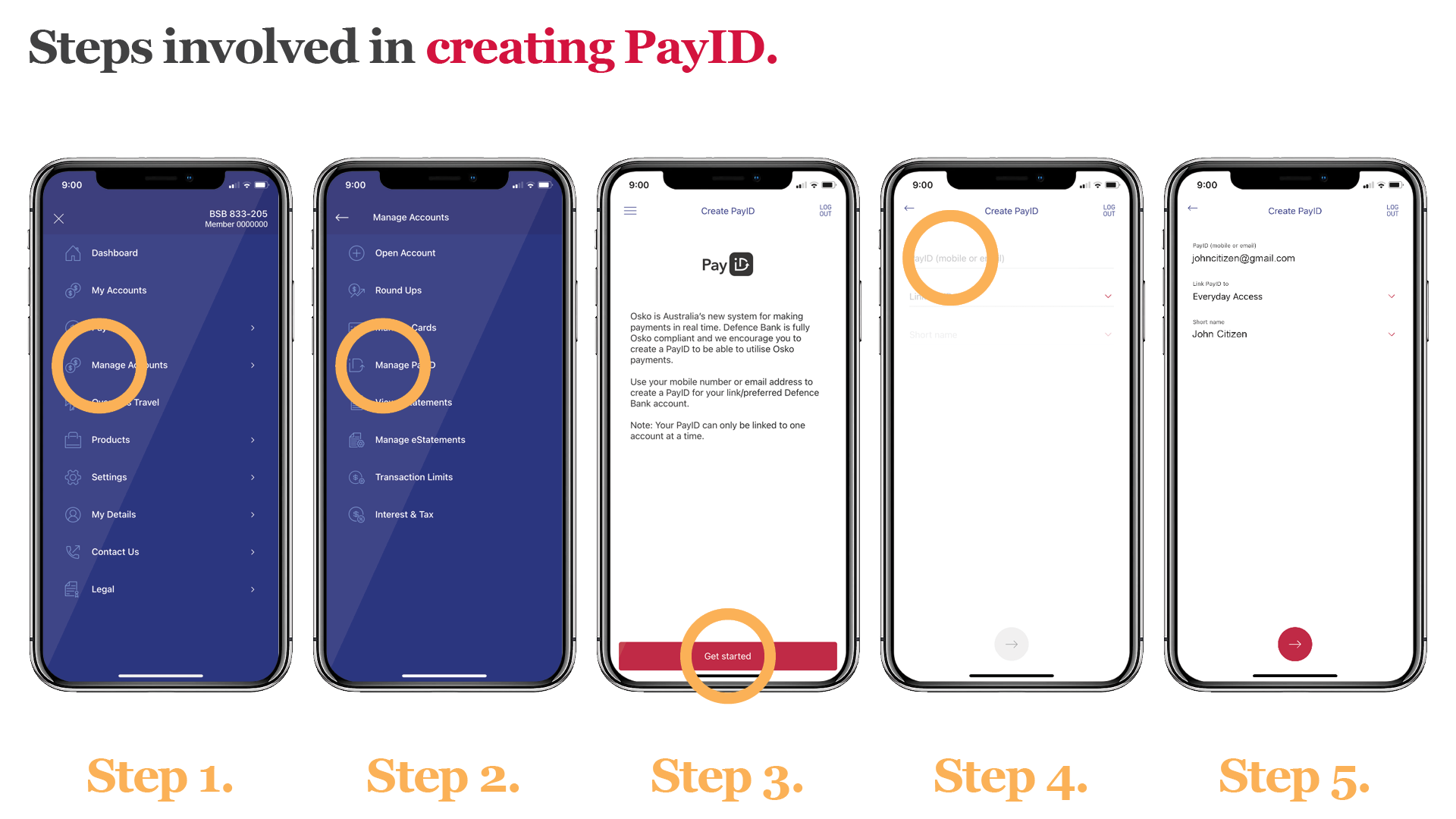 Receiving money using a PayID.
Once you've set it up, share your PayID with family, friends and business partners and you're ready to receive payments in real time between eligible accounts using an email address or mobile number.
Sending money using a PayID.
To send payments to someone else, they just need to provide you with their PayID. This may be their mobile number, however other PayID types may include email, ABN, ACN and landline phone number, depending on their bank.
How to add a new PayID contact.
| | |
| --- | --- |
| Via the app. | Login to the Defence Bank app. Select Pay, then Pay Someone. Select New Payee and then PayID. Enter the relevant unique identifier of the person you want to send money to. If this has been registered as a PayID, the logo will display alongside their chosen PayID name. |
| Via Online Banking. | Login to Online Banking. Select Transfer/Pay and then Pay Someone. Select Someone new then TO PAYID. |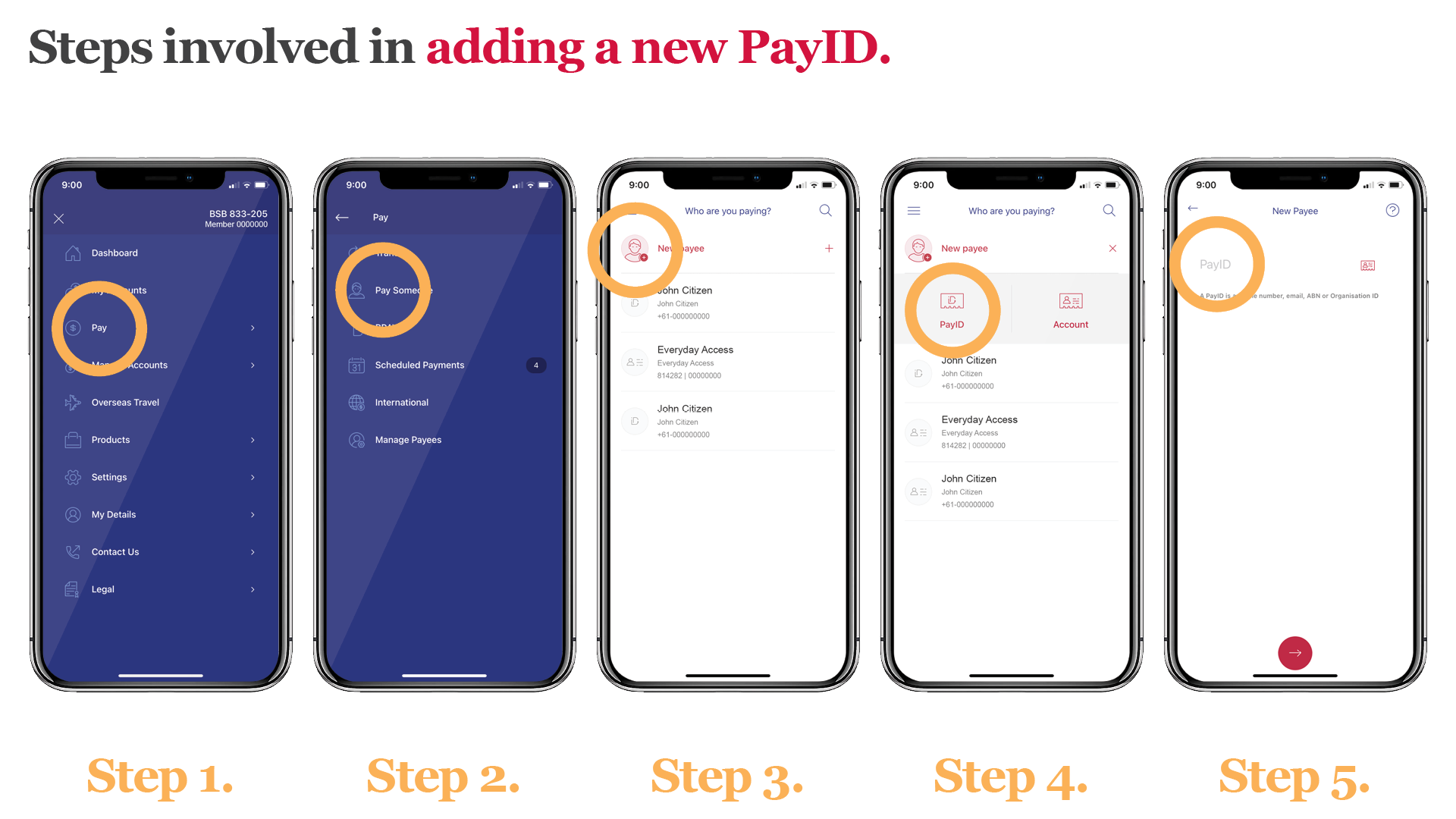 Osko is the overlay service developed by BPAY® that allows fast payments to be made. Both the sending and receiving bank accounts must be enabled for faster Osko payments. Payments may take longer in some instances, such as where there is a technical interruption to the service, there is a payment to a first time payee or when the payment is caught for additional security screening.
BPAY & Osko® are registered trademarks of BPAY Pty Ltd ABN 69 079 137 518.
Important note: This information is of a general nature and is not intended to be relied on by you as advice in any particular matter. You should contact us at Defence Bank to discuss how this information may apply to your circumstances.