When you're shopping around for a home loan, it's important to look at the comparison rate – not just the headline interest rate.
The comparison rate helps you make an 'apples for apples' comparison between different home loans. It can help you identify a loan that comes with a low rate but has plenty of fees and charges that bump up the real cost of the loan.
What the comparison rate shows.
The main cost of a home loan is the interest rate you pay. But it's not the only cost. Home loans can also come with a variety of fees – both at the start of the loan and on an ongoing basis. The comparison rate incorporates upfront fees as well as most (though not all) ongoing charges associated with a particular home loan.
By law, banks are required to show both the headline rate, which is the annual rate you'll pay on the loan, plus the comparison rate, which includes most fees and charges.
This way you're able to get a clear picture of the real cost of the loan.
The comparison rate is also a great tool to compare between loans offered by different banks. That's because some loans can come with what appears to be a very low rate. But scratch the surface and you could find you'll be asked to pay a variety of costly fees. It helps you identify a loan that could work out to be far more expensive in the long run.
Home loan comparison rates explained.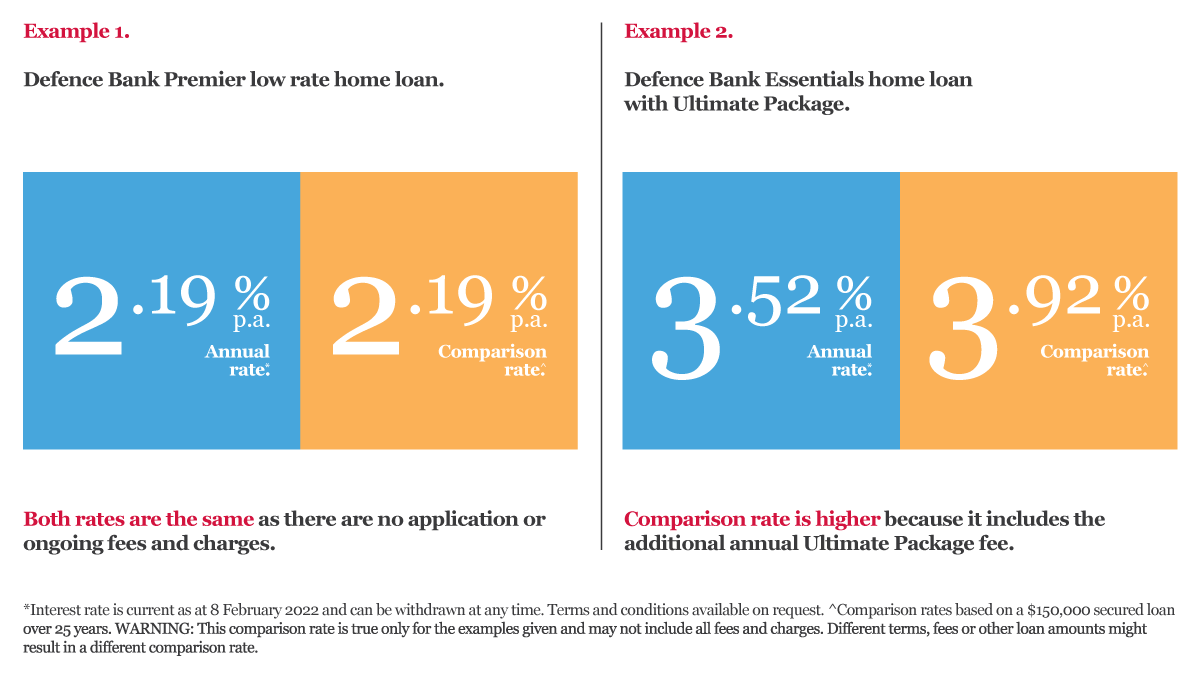 What the comparison rate doesn't include.
All lenders use the same formula to calculate the comparison rate, but it doesn't include every cost you may pay with a home loan.
As a guide, the comparison rate doesn't include non-mandatory costs such as stamp duty. It also excludes optional fees such as redraw charges. That's because how much you pay will depend on the way you manage your home loan.
In addition, the comparison rate is typically based on a $150,000 loan with a 25-year term. Chances are this won't match your loan needs, and the comparison rate will change in line with your loan size and term.
You don't have to do the sums to work out a tailored comparison rate. Just ask the lender, and they can provide the comparison rate that applies to your level of borrowing. Or download a personalised home loan facts sheet to show the comparison rate for the Defence Bank home loan that suits your needs.
What if the comparison rate is high?
What's especially handy about a comparison rate, is that it can tell you at a glance if a loan comes packed with fees. If the comparison rate is a lot higher than the headline rate, it's a fair bet the loan either has costly upfront fees, solid ongoing fees such as monthly loan charges, or both.
An exception to this can be package home loans. The comparison rate is likely to be higher than the headline rate for a package loan because these loans include an annual package fee.
Bear in mind though that in return for the annual package fee, you may be entitled to savings and discounts on a range of other financial products. At Australia's Defence Bank, the Essentials Home Loan with Ultimate Package helps you save on debit card, credit card, insurance and personal loans. It may also entitle you to preferential rates on term deposits.
The law requires us to give you information about how we use any personal information we collect from you. Please read our Privacy Policy.
Important note: This information is of a general nature and is not intended to be relied on by you as advice in any particular matter. You should contact us at Defence Bank to discuss how this information may apply to your circumstances.