Cybercrime Squad detectives are urging mobile phone users, especially parents, to remain vigilant, after a spike in reports by victims of an emerging scam dubbed the 'Hi Mum' scam.
How does the scam work?
The 'Hi Mum' scam involves the victim receiving a text message from an unknown mobile phone number on a messaging application such as WhatsApp or via text message claiming to be their son or daughter.
The message usually states they've lost their phone, telling the victim they're sending from their new number and to delete the old number.
---
Example of scammers message released by police: "Hey mum it's me. I got a new number, you can delete the old one. I got a new phone. I'm still transferring everything. I have a little problem I can't solve…Can you help me with it?"1
---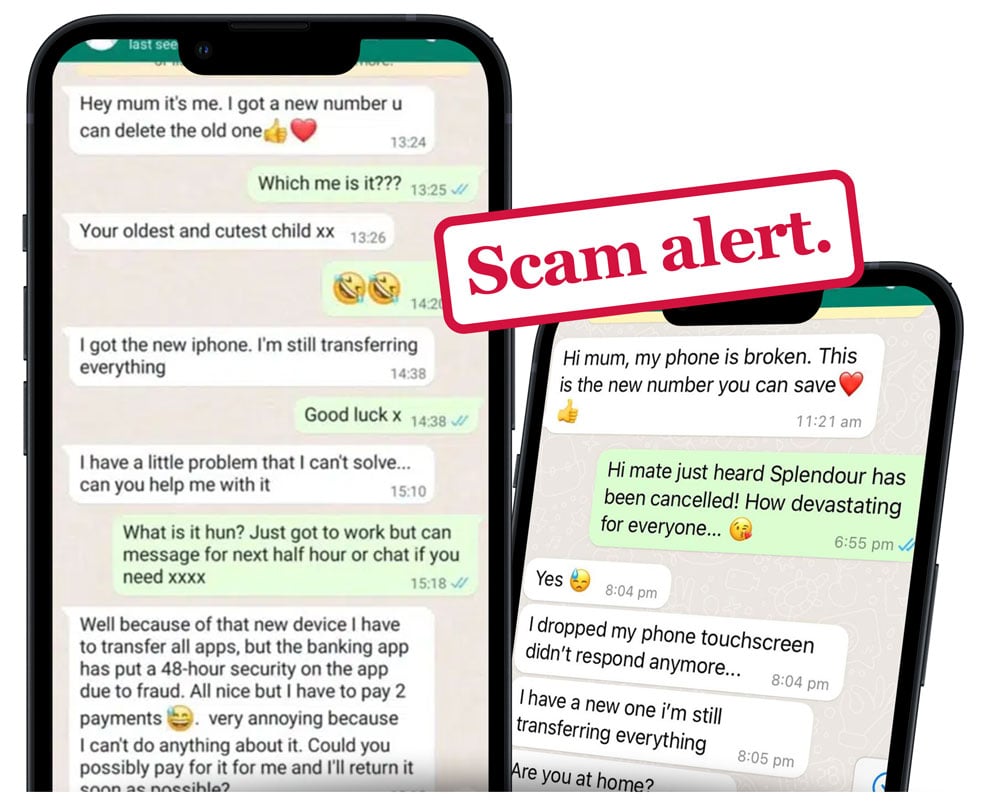 Once the victim engages in conversation, the offender will ask to borrow money or have a payment made on their behalf. This will generally include an excuse as to why they need it – for example, unavailability of online banking on the new device – and an offer to pay it back.
---
An example of a follow-up message from a scammer might go something like this: "Well because of the new device I have to transfer all apps, but the banking app has put a 48-hour security on the app due to fraud. All nice but I have to pay 2 payments. Very annoying because I can't do anything about it. Could you possibly pay for me and I'll return it as soon as possible???"1
---
The offender will usually state it's a matter of urgency before providing details for the payment. Common payment requests include handing over money for a loan, or to pay an overdue bill.
Who is the scam targeting?
Cybercrime Squad Commander, Detective Superintendent Matthew Craft, said the scam is becoming increasingly costly for parents around the world, including Australia.
"The demographic of victims is predominately aged over 55, and sadly, many parents are falling victim because they're simply nice people who are concerned for their child's welfare," Det Supt Craft said.
Reports of the scam date back to October 2021, but since May, there have been a significant increase in reports across Australia.
The Australian Cyber Security Centre has recorded a steep increase in the amount of cash and personal identity documents fraudulently obtained by the scam since May, most notably on those aged 65 and above.
How to protect yourself from the scam.
"We encourage people to look out for suspicious behaviours demonstrated by these scammers; including their failure to personalise any communication and excuses as to why they can't speak on the phone," Det Supt Craft said.
"If you receive a suspicious message on your mobile, particularly through social media or encrypted messaging, reach out to your relative by an alternative method of communication or call to confirm it is in fact them."
What to do if you think you have been scammed.
If you have lost money to a scam you should contact your bank or financial institution as soon as possible and report the matter to police. Unfortunately in most cases, if you have already sent the money, it may be too late to recover.
If you suspect a scam or fraudulent activity, members can contact us by phone between 8am and 6pm AEST/AEDT Monday to Friday on 1800 033 139 or by email to info@defencebank.com.au 24 hours a day, 7 days a week.
For more advice on how to avoid scams and what to do if you or someone you know is a victim of a scam, visit Scamwatch.
Important note: This information is of a general nature and is not intended to be relied on by you as advice in any particular matter. You should contact us at Defence Bank to discuss how this information may apply to your circumstances.


Sources:
1News.com.au, Inside the 'Hi Mum' text scam that's costing Australians millions, 06 August 2022 https://www.news.com.au/national/inside-the-hi-mum-text-scam-thats-costing-australians-millions/news-story/8e2b72333f6eded703e2b8e0a3313ca1
NSW Police, Cybercrime Squad issue warning after more than $2 million stolen under 'Hi Mum' scam, 06 August 2022. https://www.police.nsw.gov.au/news/news?sq_content_src=%2BdXJsPWh0dHBzJTNBJTJGJTJGZWJpenByZC5wb2xpY2UubnN3Lmdvdi5hdSUyRm1lZGlhJTJGMTAyNjIwLmh0bWwmYWxsPTE%3D