If you're looking to take out a loan, lenders are looking at one key piece of information: your credit score.
So what is a credit score?
Your credit score is an indicator of how well you manage your personal finances. It can be found in your credit file.
Personal details such as your age, employment, addresses.
Credit accounts and credit limits.
Repayment history such as whether you've made a payment or minimum payment required, and if the repayment was made on time.
Defaults, bankruptcy, court judgements against you.
The loans or credit you've requested (amount and company) including applications unapproved or not taken.
How often you've asked for credit.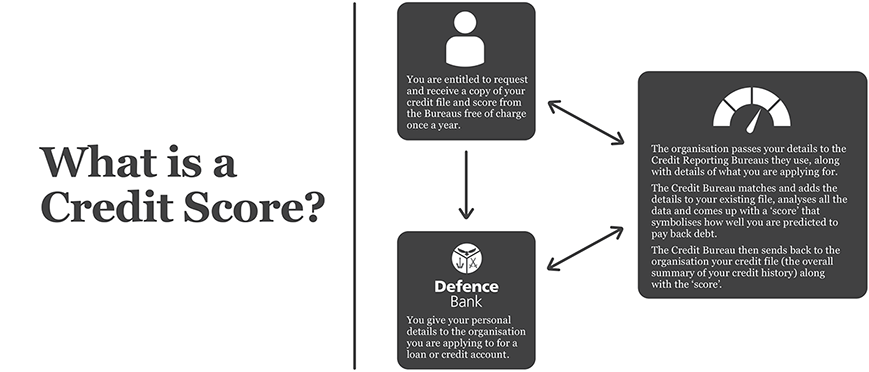 Enlarge image.
Why is your credit score important?
It's used by credit providers to assist them in assessing your loan. It represents your creditworthiness in the eyes of financial institutions. They'll take your personal credit score into consideration when they review your application for a loan.
If you demonstrate good credit-based behaviour, such as repaying debt on time, it can also mean improved access to credit at potentially better interest rates.
What can impact my credit score?
Your credit score is dynamic, meaning it may change from month to month as your financial circumstances change. Increasingly, new repayment history information such as if you've made your repayment on time is included and can influence your score.
Even popular 'buy now pay later' services like Afterpay could impact your score. Although Afterpay is not considered a credit product, and no credit check is required, they can still report any negative activity recorded on your buy now, pay later account (including late payments, missed payments, defaults or serious credit infringements) to credit reporting bodies.
Other factors can hurt your credit score.
Missing a repayment.
Maxing out your credit limit.
Applying for balance transfers too often.
Applying for several credit or loan products at once.
Getting a judgement.
Ignoring errors on your credit report.
How is a credit score created?
When you apply for a loan or credit account, you give your personal details to the organisation to which to you are applying. The organisation then passes your details to the Credit Reporting Bureaus like Experian or Equifax, along with details of the amount you're applying for.
The Credit Reporting Bureau then matches and adds the details to your existing file, analyses all the data and comes up with a 'score'. The Credit Reporting Bureau then sends back to the organisation your credit file (the overall summary of your credit history) along with the 'score'.
Who can access my credit report?
Only credit providers can obtain access to your credit file.
Banks, building societies and credit unions.
Retailers who issue credit cards.
A corporation or individual whose business includes the provision of credit.
Credit providers can obtain access to your credit file with your consent, or when you're in default of your agreement with them.
Can I access my own credit score?
You are entitled to request and receive a copy of your credit file and score from the bureaus free of charge once a year.
Maintaining a good credit score is important, so ensure you regularly monitor your score, find out the information behind it and fix any incorrect listings to improve your score.
Did you know?
You can also get a free credit score from a number of online providers. The results may vary depending on which credit reporting agency is used.
The following websites offer a free credit rating.
Creditsavvy (Experian score).
Credit Simple (illion, formerly known as Dun and Bradstreet score).
Finder (Experian score).
Getcreditscore (Equifax score).
WisrCredit (Equifax and Experian score).
The law requires us to give you information about how we use any personal information we collect from you. Please read our Privacy Policy.
Important note: This information is of a general nature and is not intended to be relied on by you as advice in any particular matter. You should contact us at Defence Bank to discuss how this information may apply to your circumstances.