An offset account is a deposit account that is linked to your home loan, and allows you to "offset" any savings you have against your mortgage interest. You will not earn interest on your savings in your offset account. However, the opportunity is there to pay less interest on your home loan.
The two main types of offset accounts.
100% offset accounts.
These are offered by Defence Bank to offset your mortgage by the entire balance (100%) of your offset account.
Partial offset accounts.
These only offset your mortgage by a portion of the balance. A 50% offset account only offsets your mortgage principal by 50% of your offset account balance. NOTE: Defence Bank does not offer a partial offset account.
---
The higher the percentage of your offset account, the more you will save on interest.
---
At Defence Bank, our 100% Home Loan Offset account works by using 100% of the balance to 'offset' - effectively reduce - the portion of your home loan accruing interest. This, ultimately, allows you to pay more into your loan principal.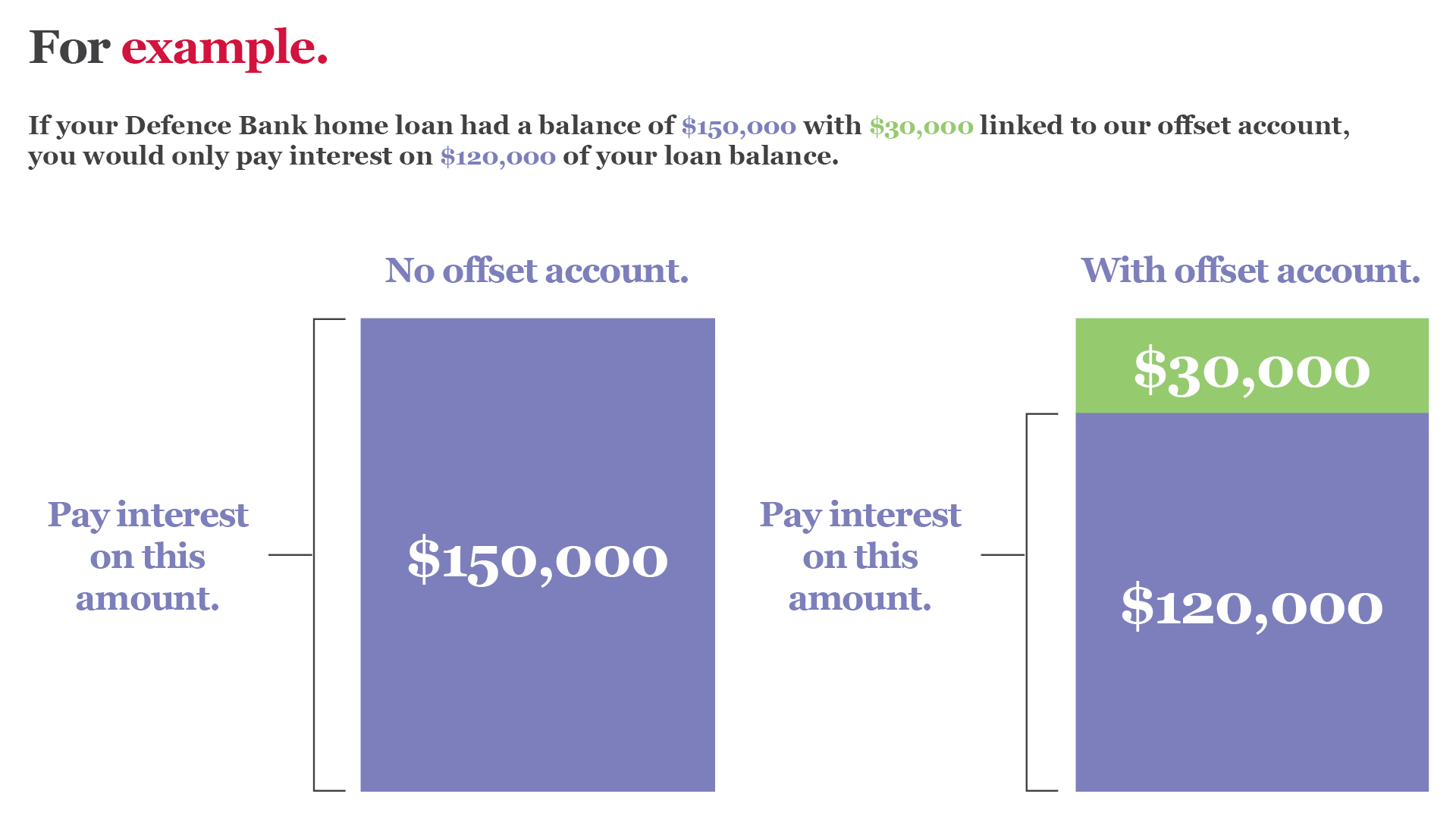 The Defence Bank Home Loan Offset account can only be linked to a variable rate home loan. Unlike some lenders, we don't charge a different or higher interest rate on your home loan if it has an offset account.
An offset account PLUS other benefits.
Your Defence Bank Home Loan Offset account also comes with a camo-design Visa Debit card, access to ATMs, EFTPOS, Online Banking, and our award-winning banking app - so you can access and use your funds as you would a regular transaction account.
Make the most of your Defence Bank Home Loan Offset account.
Get your salary paid directly into your 100% Home Loan Offset account and make every dollar count.
Make the most of surplus savings in the account. The more you have in your offset account daily, the less interest you'll be charged.
If you are disciplined about paying off your credit card debt in full before the interest-free period runs out, you may consider using a credit card with up to 55 days interest-free period like our Defence Bank Foundation Credit Card. The interest-free period allows you to keep as much of your pay and any other savings or earnings, for as long as possible to maximise your offset balances.
The law requires us to give you information about how we use any personal information we collect from you. Please read our Privacy Policy.
Important note: This information is of a general nature and is not intended to be relied on by you as advice in any particular matter. You should contact us at Defence Bank to discuss how this information may apply to your circumstances.