Leaving the ADF doesn't mean you need to switch to a civilian bank. In fact, we'd love you to stay. As an ex-ADF member, we will look after you for life with unique products and services that you'll find hard to get elsewhere.
There are many reasons why you should stay with Defence Bank.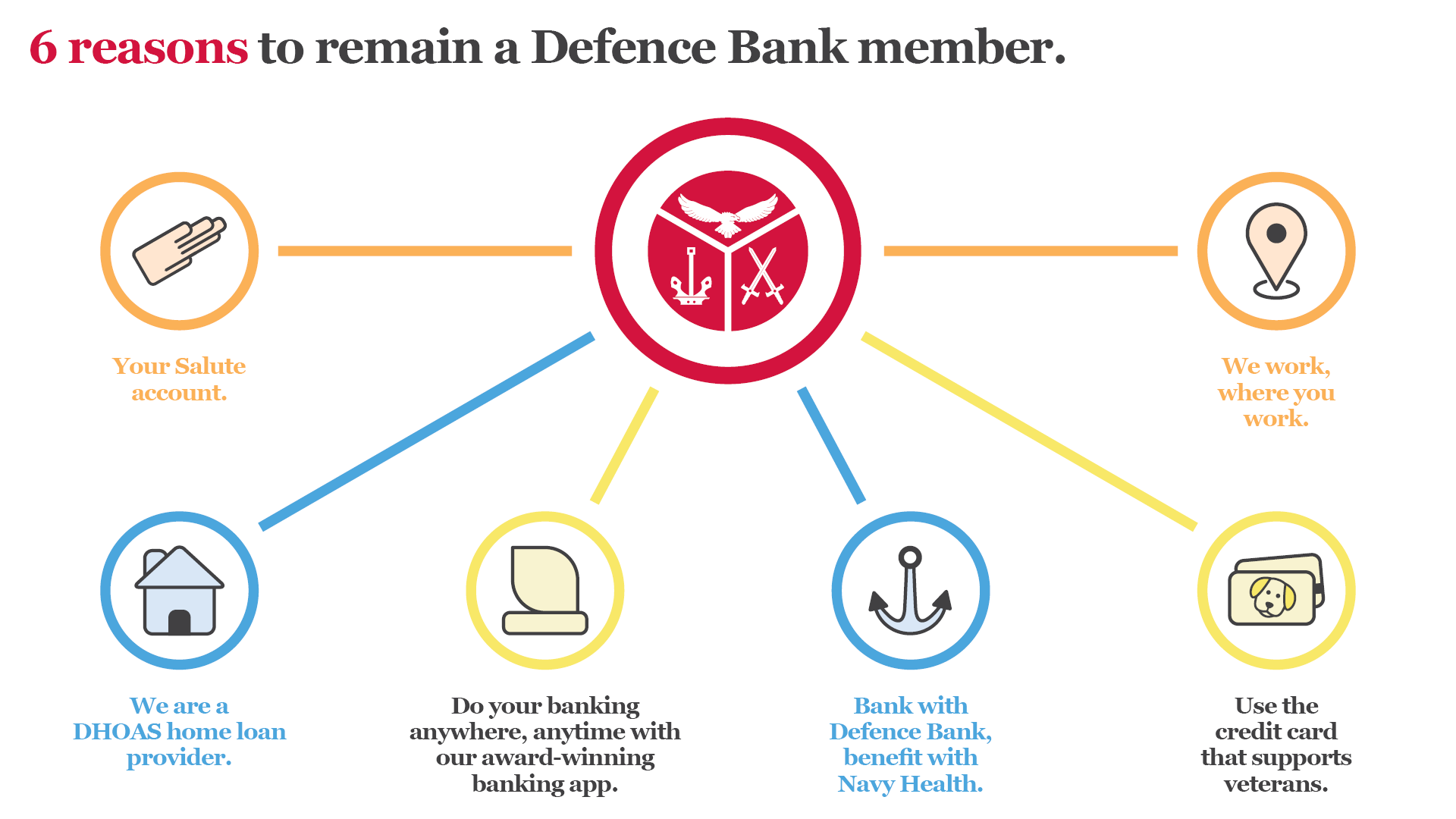 Your Salute account.
Our Salute account is our way of saying thank you for your service. As you leave the ADF you are eligible for our Salute account which offers high bonus interest for 12 months. The Salute account has one of Australia's highest savings interest rates and is only available at Defence Bank.
We are a DHOAS home loan provider.
You may still be eligible for a DHOAS home loan up to 5 years after you leave the ADF and Defence Bank is one of only 3 banks that can offer DHOAS home loans. We have mobile lenders who are DHOAS home loan specialists all across Australia that can help you to navigate the home loan process.
Do your banking anywhere, anytime with our award-winning Banking app.
You don't need to be on base to do your banking with our award-winning banking app. The Defence Bank app is packed full of features that makes your banking easy and our members have rated our award-winning app 4.8 out of 5 stars on the App Store.
Bank with Defence Bank, benefit with Navy Health.
When you transition, you need to consider your health insurance needs. Medicare covers most Australians for health care but won't cover everything. You can choose to take out private health insurance to give yourself a wider range of options and cover.
If you choose to take out health cover, Defence Bank and Navy Health have formed a partnership which means you may be eligible to receive a discount. Some discounts available are as follows
If you are a Defence Bank member, you're eligible for a 5% discount when you join Navy Health with hospital and extras (combined) cover.
If you're an Active Reservist, a serving ADF family or Veteran Cardholder, you can get 10% off your premiums.
Find out more about Navy Health.
Use the credit card that supports veterans.
Our Defence Bank Foundation credit card supports veterans and has one of the lowest ongoing interest rates in Australia.
Half of the annual $45 card fee is donated to the Defence Bank Foundation - a charity whose sole beneficiary is Defence Community Dogs. The Community Dogs' program changes lives through assistance dogs at no cost to veterans.
Under the program, rescue dogs are trained in correctional facilities before being presented to veterans - providing a second chance for the dogs, inmates and veterans.
We work where you work.
If you're a Defence contractor, chances are you work where we have an on-base branch. With Australia's largest on-base network with 32 branch locations across Australia, we are closer than you think. Please drop in and say hi.
If you have any questions about how Defence Bank can support you in your civilian life call our Contact Centre on 1800 033 139 or visit your local branch for assistance.
We were there for you in the ADF and we are here for you now. So make sure you stick with the Bank that just gets Defence!
Have any questions? We have the answers. See our FAQs.
Important note: This information is of a general nature and is not intended to be relied on by you as advice in any particular matter. You should contact us at Defence Bank to discuss how this information may apply to your circumstances.