No one likes to pay bank fees and with the Everyday Access account at Defence Bank, they're easy to avoid. To ensure you do, you should consider the following.
Always have sufficient funds available.
The easiest way to avoid paying fees is to make sure you have enough funds in your account to cover any withdrawals or outgoings you have. By doing so you can avoid things like dishonoured payments, declined ATM or EFTPOS fees or overdrawn or over limit fees on your account.
To help you monitor this you can set up SMS or email reminders via our alerts system in the Defence Bank app or Online Banking. These will help you keep track of your account balances so you can prevent a direct debit from dishonouring and incurring fees, or prevent your account from being overdrawn or over limit.
You can choose from a number of free alerts that includes an account balance threshold or daily balance amount.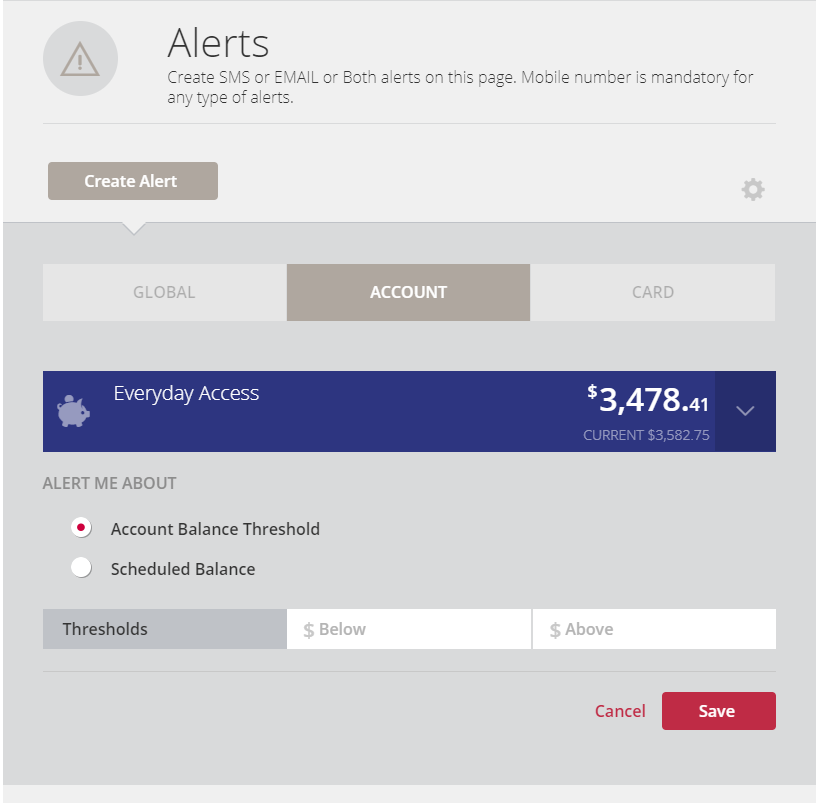 Check your balance regularly.
Checking your balance regularly can assist you in having a clear view of what's coming in and out of your account, so you always have enough for scheduled payments and bills. You can do this in Online Banking or the app.
---
TIP: Not sure if you have enough funds in your account before you attempt to withdraw funds at an ATM or pay by EFTPOS? Use Quick Balance to check account balances in the Defence Bank app. Turn on Quick Balance in the Defence Bank app to view the balance of a nominated account without having to log on to the Defence Bank app. Or ask Siri to do it for you.
---
Use a Defence Bank or Big 4 Bank ATM to avoid paying ATM fees.
As a member of Defence Bank, you enjoy fee-free cash withdrawals at Defence Bank ATMs but also at ANZ, Commonwealth Bank, Westpac and NAB ATMs.
Read our tips on how you can avoid paying ATM fees altogether.
Please note that ATM withdrawals at other non-big 4 ATM networks or ATMs in locations like service stations may attract a direct charge fee. Remember you will always be notified on the ATM screen if there is to be a charge. This gives you the chance to cancel the withdrawal and avoid the fee.
Plan for the unexpected.
Make sure you have enough funds in your transaction account to cover your everyday expenses. But also plan for larger annual one-off payments like car registration or higher electricity or gas bills in winter.
---
TIP: Work out how much you need as a buffer, but don't overdo it: keep as much money as you can in interest-earning savings accounts.
---
In the app, use the Spend Tracker feature to easily compare your spending to the previous month. This allows you to get an approximate on how much you should be allowing for expenditure on food, utilities, bills etc.
Find out what fees and charges may apply on your Everyday Transaction and savings account.
Have any questions? We have the answers. See our FAQs.
Important note: This information is of a general nature and is not intended to be relied on by you as advice in any particular matter. You should contact us at Defence Bank to discuss how this information may apply to your circumstances.