Ever wondered where your small change goes? Back in the day when most of our purchases were made using cash, it was common to find loose change everywhere – under car seats, behind sofa cushions, even rattling around in the washing machine. Even today, it's estimated Australians collectively lose $110 million worth of coins annually.1 What a waste!
But it wasn't all bad. Plenty of us used to gather up loose change, pile it in a piggy bank, then whip down to the bank and deposit the lot in to a savings account.
Okay, it wasn't always a fortune, but when you're saving towards a personal goal, every bit counts.
These days we're more likely to pay with a debit card or shop online. So, the days of pesky loose change bulking up wallets could be heading into the history books. The downside is that our small change on purchases could still be going to waste simply by sitting in a transaction account that pays zero interest.
The solution can be automatic Round Ups! Here's how it works.
Round up, and watch savings build up.
One of the optional features of a Defence Bank Everyday Access account, Offset account or Pension Saver (eligible accounts) is automatic Round Ups.
Each time you spend with your Defence Bank Visa Debit card, your purchases are rounded up to your selected Round Up amount ($1, $5 or $10), with the funds transferred from your Defence Bank Everyday Access account to your nominated Defence Bank savings account.
For example, if you buy a take-away latte costing $3.50, this amount will then automatically be rounded up to the nearest dollar. In this instance, a total of $4.00 will come out of your Everyday Access account, with 50 cents going straight to your savings account. It really is an effortless way to let your small change grow savings.
| Purchase amount. | Round up amount. | Amount saved. | |
| --- | --- | --- | --- |
| $1.23 | $1 | $0.77 (= $2.00 - $1.23) | Rounds up to nearest $1. |
| $1.23 | $5 | $3.77 (= $5.00 - $1.23) | Rounds up to nearest whole dollar amount that is exactly divisible by 5 (without remainder). |
| $1.23 | $10 | $8.77 (= $10.00 - $1.23) | Rounds up to nearest whole dollar amount that is exactly divisible by 10 (without remainder). |
How to set up Round Ups using the Defence Bank app.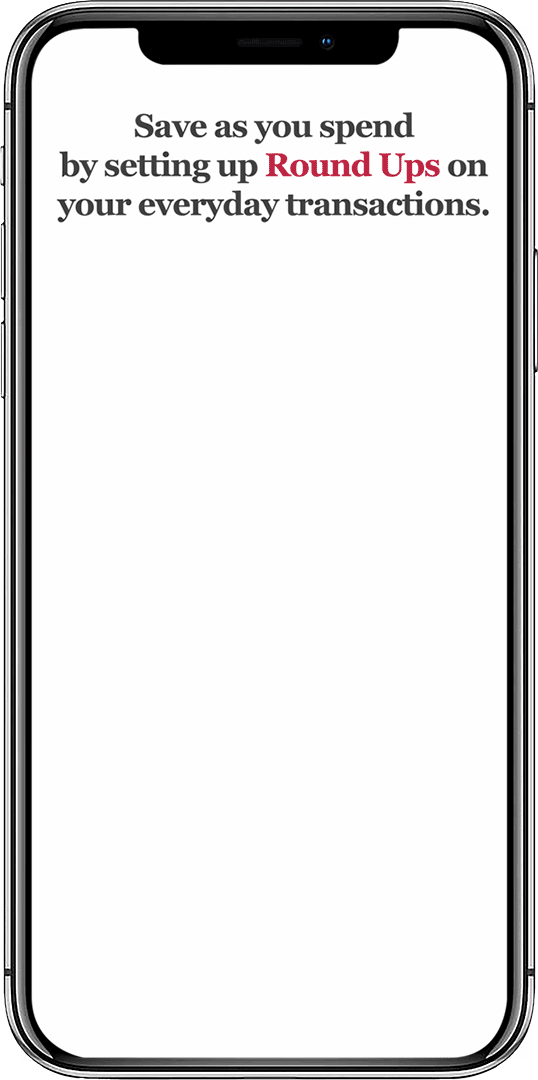 Open the Defence Bank app.
Select Manage Accounts from the drop-down menu.
Select Round Ups.
Select Get started.
Tap your Everyday Access account.
Select the account you want your Round Up amount transferred to.
Select the amount you wish to round up ($1, $5 or $10).
Hit Start Saving!
Can I set up Round Ups via Online Banking?
The Round Ups feature is only available via the Defence Bank App.
Which accounts can I round up in to?
To set up Round Ups you are required to have either an Everyday account, Offset account or a Pension saver ('eligible accounts') with a visa card attached, and be the primary owner of one of the following savings accounts, which are the 'to accounts':
iSaver.
Max eSaver.
Salute.
Home loan offset.
Pension Saver.
Everyday Access.
Cadet Saver.
Teen Saver.
Kids Club.
Mix and match.
The great part of Round Ups is that the sums transferred can be as low as just $1. So chances are you won't miss the extra cash coming out of your selected account. But as we increasingly become a cashless society, Round Ups let you put your digital loose change to work.
To supersize your savings, think about setting up an automatic transfer of funds out of your selected 'eligible accounts' and into a savings account like our Max eSaver or iSaver. Time it with payday, and it's likely you'll never miss the cash you've never had.
By mixing and matching Round Ups with a dedicated savings plan, you can fast-track your way to a solid balance of spare cash to achieve personal goals or just grow valuable rainy day money for unexpected bills.
You can stop or change your round up amounts any time via the App in 'Manage accounts' under 'Round Ups' any time.
For help getting started with Round Ups, you can count on the team at Australia's Defence Bank. Call our Contact Centre on 1800 033 139 or visit your local branch to find out more.
Got questions? We have the answers. See our FAQs.
1 https://www.live-counter.com/coins-lost-in-australian/
Important note: This information is of a general nature and is not intended to be relied on by you as advice in any particular matter. You should contact us at Defence Bank to discuss how this information may apply to your circumstances.